Phone numbers for smart entrepreneurs
Online phone numbers for flexible forwarding. You control what happens to incoming calls.

Device independent

Call forwarding

Number sharing
Online phone numbers. Simple to configure.
Easy to configure your online call plan
With a few clicks you decide where calls to your online phone number should go to and when you let them reach you. The ideal solution for control and professional presence.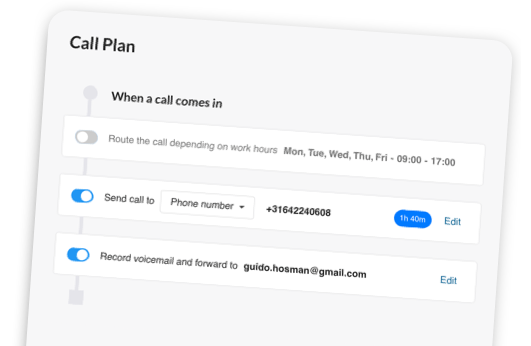 Can be used with multiple people
You can route incoming calls to a list of up to 5 numbers and configure if they should ring at the same time or one after the other. With an online phone number you control what happens.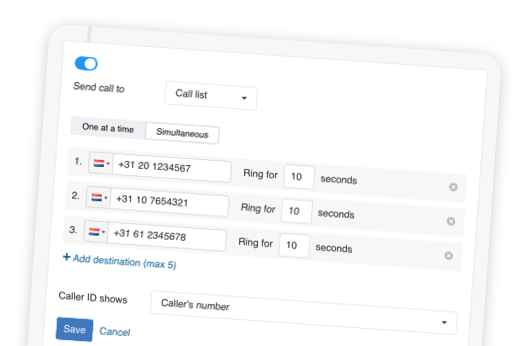 Route calls depending on work hours
Answer on your mobile phone during work hours, but automatically forward to a call center or voicemail outside work hours? That's possible!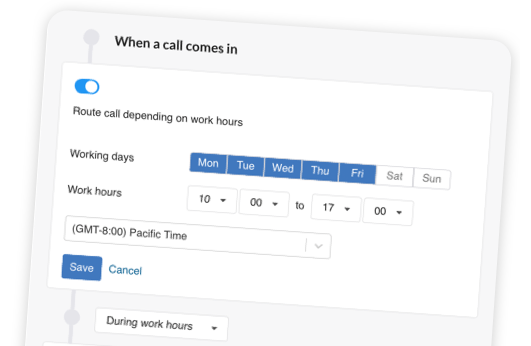 Voicemail in your email
Voicemail messages are sent to any email address of your choice, so that you listen to them at your convenience or share them with others.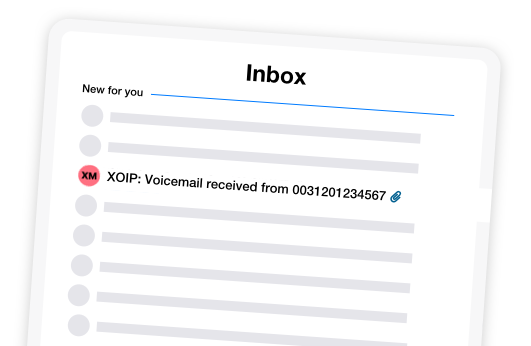 Who's this for?
Geavanceerde telefonische bereikbaarheid voor een klein budget
Freelancers and homeworkers
Put a XOIP online phone number on your website, profile or business card and prevent people from getting to know your mobile number or disturb you outside of work hours.
Small teams
A XOIP online phone number as assistance number will forward to whomever is scheduled or available.
Non-profits and volunteers
With a XOIP online phone number your organizations has a professional phone presence in no-time and for a very affordable price.
Order now
Online phone numbers in The Netherlands
Ook voor bedrijven buiten Nederland. Te vermelden op websites, visitekaartjes of email signatures.
XOIP number (084)
The 084 range is specially earmarked for VOIP telephony. XOIP's paid 084 subscriptions have a low call rate, so that callers won't get high call costs, and can be dialed internationally.
Geographic number
A regular fixed number in your own network region. Choose this if you prefer a local and familiar phone presence.
Bring your own number
In case you want to continue to use your current fixed number, we can move your number from your current telecom provider to XOIP (number porting).
Bestel nu
Protect your privacy with an online phone number
Shield your private phone number
Keep work and home life separate. Hand our your XOIP number to work related contacts and keep your mobile number private.
See who calls
Also when a call is forwarded you can still see who is calling you.
Send and receive faxes online
Retire your fax-machine. Online fax sending en receiving saves time, frustration and paper.
Try now!
Send a fax online
€0.25 per page, min. €2 per fax
Get a plan for lower rates and no minimum rate
See the fax subscriptions